The President And Committee Of
The Pembroke College Winnie-The-Pooh Society
invite you to a
GARDEN PARTY

New Court Lawn, Pembroke College, Cambridge
Monday 18th June 2001
2pm - 5pm

£3 In Advance
£4 On The Door
Annual Garden Party 2001
With the Easter term drawing to a close all that stood between the society members and the Long Vacation was May Week. After an event filled year the society finished the last term with one of its most prestigious events the Annual Garden Party.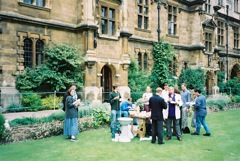 The lawn beautifully furnished with an overflowing table of the finiest food the society could provide (including the tradition honey and condensed milk sandwiches) and the society's very own birdbaths expertly filled with punch for refreshment on the hot summer afternoon. As with all the society's previous Garden Parties the event would not have been complete without 'antics' and these were plentiful including:
After all the fun and excitement their is only one way to conclude such an event and that is with the Society Anthem and it was sang in all its glory.

Return To Events & Expoititions
---
©The Pembroke College Winnie-The-Pooh Society 2001.

Photographs used with the kind permission of Owen Barritt

Disclaimer: The views given on this page are those of the Pembroke College Winnie-The-Pooh Society and do not necessarily correspond to those of Pembroke College L