---
News
World Poohsticks Match 2009: 29th March
Held at Day's Lock, Little Whittenham. Those who attended claim we came second, but a proper record will have to wait until the minutes, if minutes there be, make there way onto the internet.
Two years of nothing newsworthy happening
Apparently. It should mostly be in the minutes, if you care, particularly since we established that the minutes define reality.
AGM 2007: 24th February
On 24th February we had our Annual General Meeting in the Nihon Room in Pembroke, and Richard and Neil showed up, as did many other people. Normal Pembrokians witnessed some of us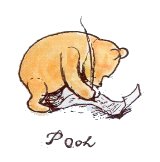 skipping round Foundress Court dressed in black tie or some approximation thereof.
Formal Hall with Our Arch-Nemesis
On Thursday 15th February 2007 we were outnumbered by Sheila and Her Dog and I think I have gone mad as a result. I accidentally took some minutes when people declared meetings open several times (officially Naath's job, but she's left and we never got around to having an EGM), and I'm trying to get some photos. Anyhow, it is now 1:23 p.m. and I haven't had a little something since breakfast, which was a good four-and-a-half hours ago now.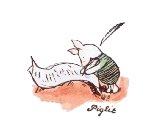 The Biscuit League 2004-2005
With only one quarter final left of last years competition before we hit the semis, it is now time to start thinking about entries for next years league. The League will start towards the end of Lent term and all interested members are invited to send a list (in priority order) of their favourite biscuits to biscuits@poohsoc.org.uk.
Please see the League Rules for more details
Character Post Elections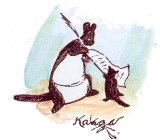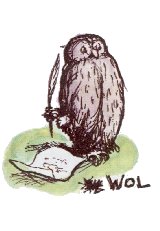 At the meeting of 29th November 2003 the society filled several vacant character posts. To the posts of Rabbit and Kanga, Mr. Neil Roques and Miss Rachel Causier were elected, respectively. The vacated post of Wol fell upon Miss Michelle `Chess' Hart under clause LV of the constitution.
In order to publicise A. A. Milne's literary masterpiece, "Winnie-the-Pooh" for the BBC Big Read, and as a part of National Tree Week 2003, the Pembroke College Winnie-the-Pooh Society held an Inter-Varsity Poohsticks match.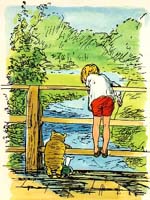 Date: Sunday, 30th November, 2003
Time: 12.30pm onwards
Place: Poohsticks bridge (a.k.a. Crusoe Bridge), Cambridge
The event was filmed by Anglia Television
Any members of any other institution interested in taking part in next years competition should email the Captain of Poohsticks.
Click here for detailed results and photos.
---
Last updated 13th May 2009 by Eeyore © The Pembroke College Winnie-the-Pooh Society 2000-2014


The webmaster lives on the web all by herself under the name of Charlotte, which means she has

over the frame in gold letters and lives under it. If you have any comments about the web site please send salutations.
Disclaimer: The views given on this page are those of the Pembroke College Winnie-The-Pooh Society and do not necessarily correspond to those of Pembroke College.